Practice Interviews
A practice interview (aka "mock interview") is one of the best ways to prepare for an actual job interview. It allows you to experience the interview process and practice answering questions.
Mock interviews with Career Center staff
To make an appointment for a mock interview with a Career Center staff member, students and alumni may call 417-836-5636.
A member of the Career Center staff will interview you, asking questions specifically related to the field in which you are interviewing. The practice interview is recorded, which allows you to see yourself as others see you. After the interview, the staff member will watch the video of your interview with you and provide feedback and advice. You will receive a feedback form at the end of the critique.
The interview portion normally takes between 15 – 20 minutes with the critique session taking 30 – 40 minutes. Please plan on a full hour for the appointment.
If you are doing a mock interview for a class assignment, when you call to set your appointment, please tell us the name of your instructor, the name of the class, and any other assignment requirements.
Prepare for your practice interview
Read the handouts on Interviewing and Dress for Success.
Review the list of common interview questions from the Career Center website. Practice answering these questions; however, do not memorize your answers. Prepare to respond to the interviewer's questions about your experiences, skills, and achievements. Read more about behavioral interviews.
Come to your appointment dressed as if you were going to an actual interview. This is the perfect time to make sure you are dressing appropriately for interviews.
Bring a hard copy of your résumé (portfolio is optional). If you have a job description or job posting for the position, you may bring that also. If you would like to keep a copy of your interview, please bring a blank USB flash drive.
Arrive a few minutes before your appointment.
Items to bring to your mock interview
Hard copy of your résumé
USB flash drive (if you want to save your video)
Job posting and/or job description (optional)
Portfolio (optional)
InterviewStream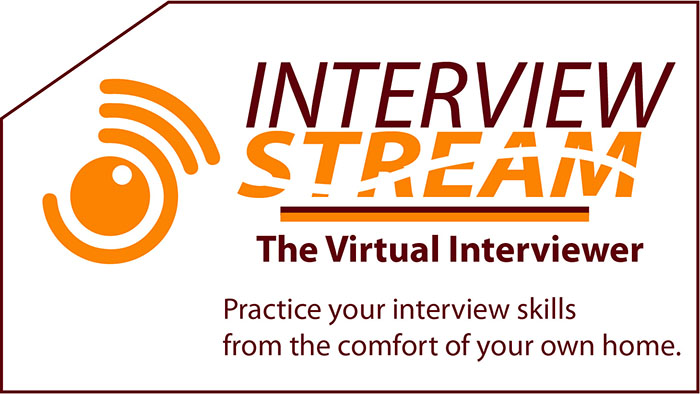 Want to practice your interviewing skills but don't have time for an appointment? Use InterviewStream—free to all Missouri State University students and alumni.
InterviewStream is an online tool that helps students and job-seekers prepare for job interviews by creating a no-pressure environment to practice and review their skills.
If you have never used InterviewStream, start by registering for an account (free). After logging in, you can create a custom interview or select a previously created custom interview. After conducting a system check for Internet speed, webcam, and microphone, a virtual interviewer will then ask the first question. At the end of a countdown, recording starts. After recording your response, you will have three options: review, retry, or submit. After you submit your final answer, your responses will be uploaded.
To watch your interview in InterviewStream, simply select Watch my interview.
The new InterviewStream Mobile app is currently available on the Apple iTunes store and Google Play store.
Resources from InterviewStream
InterviewStream Umm-Like Guide
Thank-You Letters
After a job interview, you should always send a thank-you letter. Although the Career Center doesn't require you to send a thank you after a mock interview, you may want to—if only for the practice.