Health Professions Career Fair
Thursday, Oct 6, 1:00 pm - 4:30 pm
Frequently asked questions
Who may attend the career fair?
The Health Professions Career Fair is for students in academic programs such as—
Physical Therapy
Nursing
Occupational Therapy
Physician Assistant
Communication Sciences and Disorders
You'll learn about potential internship or full-time employment opportunities and make valuable contacts.
This career fair also is open to undergraduate students studying—
Biomedical Sciences
Dietetics
Exercise and Movement Sciences
Are alumni welcome to attend?
Yes. Graduates of all Missouri State health profession programs are welcome to attend the career fair.
Is registration required?
No, registration is not required, but it is preferred.
How do I get my resume included in a Resume Book for employers?
In order for your résumé to be viewed by an employer in a résumé book or in Handshake, you will need to upload your resume in Handshake and your profile in Handshake will need to be in public mode.
Instructions: https://careercenter.missouristate.edu/_Files/HandshakeResumeUploadInstructions.pdf
Please title your resume: FirstName LastName Major Resume Book Fall 2022
Does it cost to attend the career fair?
No, the career fair is free for students to attend.
Which employers are attending the career fair?
To see a complete list of employers attending the career fair, use your BearPass to log into Handshake.
How can I get help preparing my résumé or having it reviewed?
You can visit the Career Center during drop-in hours for résumé assistance and reviews.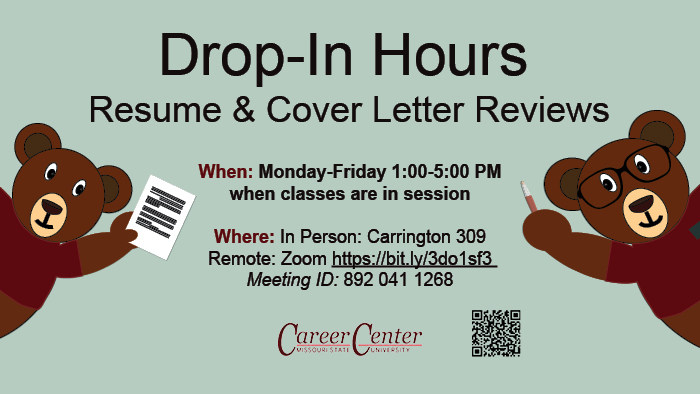 Are classes cancelled on the day of the career fair?
No, classes are not cancelled for the Health Professions Career Fair.
Contact information